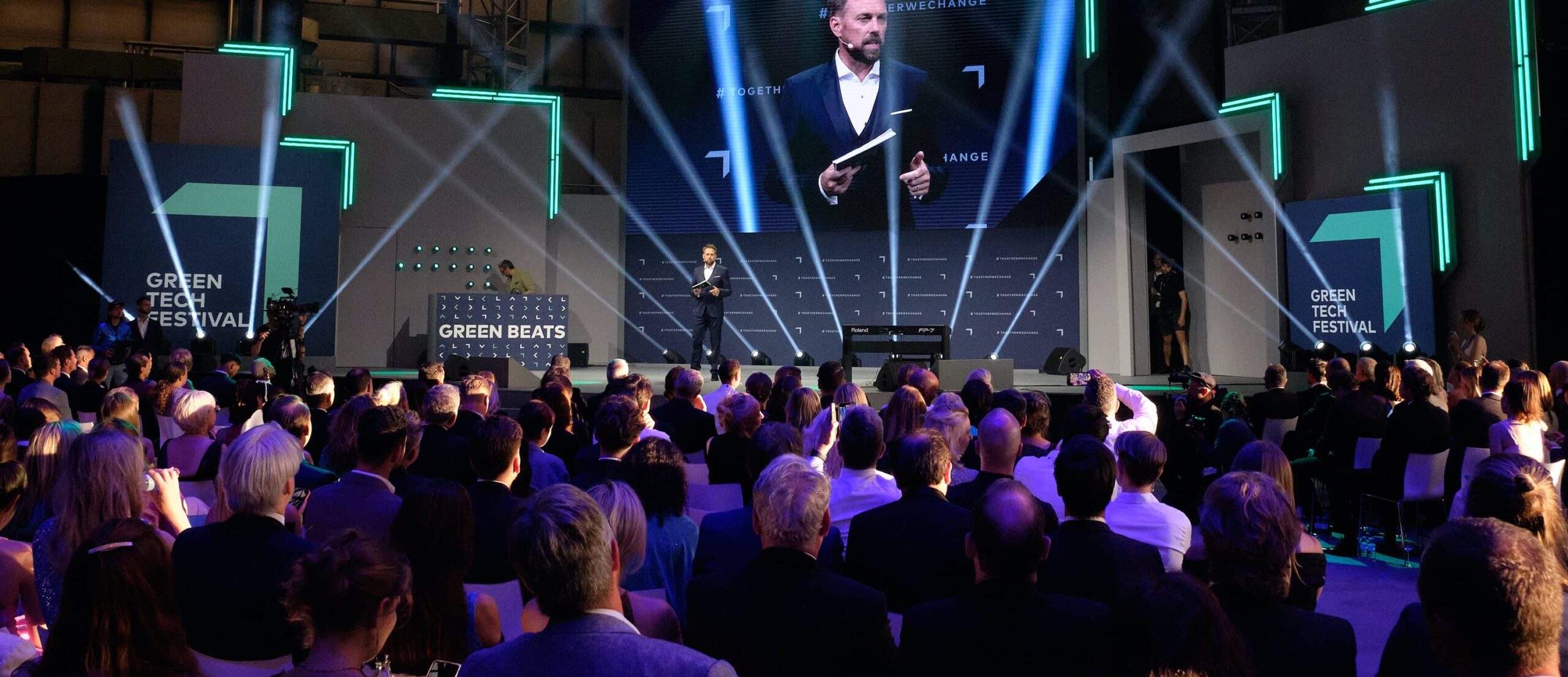 CELEBRATING CHANGEMAKERS
At the heart of GREENTECH FESTIVAL, the GREEN AWARDS celebrate the most innovative projects and minds. The award honors outstanding personalities, institutions, companies, start-ups, and innovations. A glamorous tribute to the best sustainable ideas worldwide.
Check out our nominees for our next stops in Los Angeles and Singapore.
GREEN AWARDS WINNER 2023
BRILLIANT PLANET
Category: Innovation
Brilliant Planet is utilizing the potential of algae to permanently and quantifiably sequester carbon at the gigaton scale.Their method is not only ten times more affordable but also ten times faster than legacy algae producers, which allows for affordable carbon removal through algae. The company's innovative process enables vast quantities of microalgae to grow in open-air pond-based systems in coastal desert areas without the use of freshwater. By harnessing a natural process, the innovative method contributes to the health of both the oceans and the air.
CONCULAR
Category: Start-Up
Aiming to change the construction sector, which is responsible for 60% of waste and 40% of CO2 emissions worldwide, Concular is developing a digital ecosystem for circular construction. Beginning in 2012 with Restado, a marketplace to buy and sell materials from deconstruction, Concular has grown to Europe's largest marketplace for reused materials. As this mainly reached small companies, Concular was founded in 2020 to cater to the professional actors of the construction sector. By digitizing materials in both new and existing buildings and redirecting them into new construction instead of landfilling them, Concular has created closed material loops which help to reduce global CO2 emissions by up to 15% and waste by up to 30%.
PROF. DR. JOHAN ROCKSTRÖM
Category: Special Award
Rockström is a renowned scientist in the field of global sustainability. He played a key role in developing the Planetary Boundaries framework for human development in an era of rapid global change. With over 25 years of experience in applied water research, he is a leading expert on global water resources. Rockström's research has influenced policy decisions and he provides scientific guidance to organizations such as the European Commission and the Royal Swedish Academy of Sciences. He also advises governments and business networks and holds important positions in various advisory boards and organizations focused on conservation and environmental issues. He is recognized as a member of the German Academy of Sciences Leopoldina.
OUR NOMINEES 2023
Explore our international GREEN AWARDS nominees, who have wowed the jury with their innovative and sustainable solutions by visiting Singapore page for Building and Food & Beverage categories. And USA page for Energy and Mobility.
AWARDS PROCESS
You can already apply for the 2024 GREEN AWARDS. Make sure to fill out our formulary down below.
Selected jury members
Amanda
Jobbins Vodafone Business
Marketing and Communications Director
Dr. Andreas
Jentzsch Boston Consulting Group
Managing Director and Senior Partner
Dr. Andreas
Klesse EON Energy Infrastructure Solutions
Head of Operational Excellence
Prof. Anke
Weidenkaff Fraunhofer IWKS
Institute Director
Béatrice
Bracklo Amazon
Director Public Policy DACH
Bernhard
Kowatsch United Nations World Food Programme
Head of Innovation Accelerator
Berit
Erlach acatech – Deutsche Akademie der Technikwissenschaften e.V.
Scientific Officer
Christian
von den Brincken Ströer Media SE
Managing Director
Prof. Christopher
Hebling Fraunhofer Institut für Solare Energiesysteme ISE
Director Division Energy Technologies and Systems
Claire
Oelkers Reporter, Moderation, Actor
Dr. Cyril
Stephanos acatech - Deutsche Akademie der Technikwissenschaften
Head of Energy Systems of the Future
Dorothee
Ingwersen Plan Shop GmbH/ Plan International
Managing Director
Erin
Beilharz CleanTech Hub - Lufthansa Group
Managing Director
Florian
Kohler GMUND
Owner
Frederike
Kollmar HYAZINTH Partnerschaft von Rechtsanwälten
Managing Associate
Dr. Ijad
Madisch ResearchGate
Co-Founder & CEO
Ingrid Adjoa
Yeboah IY.LEGAL
Founder & Lawyer
Dr. Jan-Claudio
Muñoz Alter Equity
Venture Partner
Jean-Damien
Bogner Julius Bär & Co. AG
Climate & Sustainability Risk Executive Director
Dr. Johanna
Klewitz Audi AG
Head of Supply Chain Sustainability
Dr. Johanna
Puetz Boston Consulting Group
Partner
Jörg
Mugke T3N
Managing Director
Laurent
Guérin Business France
Trade Advisor
Katherina
Reiche Westenergie AG
CEO
Lena
Engel JF & Company
Head of Sustainability
Malaika
Mihambo Athlete, Olympic Champion
Dr. Manon
Littek Green Generation Fund
Founding Partner & Managing Director
Marco
Vollmar MSL Germany
Senior Advisor
Marie Eve
Schröder Meta
Group Director of Sales DACH
Marie
von den Benken Author, Influencer & Model
Markus
Weigold Drees & Sommer SE
Partner
Matthias
Wachter BDI - New Space Initiative
Managing Director
Max
Arnold FORMAT.berlin | Kreativagentur
Owner
Maxim
Streletzki Estrel Hotel
Owner
Michael
Bültmann HERE Germany
Managing Director
Natalia
Avelon Actress & Musician
Nicole
Schumacher Deutsche Bahn AG
Head of Public Relations/ Content Marketing/ Media
Nicoline
Woehrle Wala Heilmittel
Head of Communications
Nils
Müller trendone
Founder & Managing Director
Nina
Eichinger Moderation
Philipp
Bergeron Deutsches Zentrum für Luft- und Raumfahrt e.V. (DLR)
Board Representative for sustainability
Dr. Ralf
Bremer Google
Senior Manager Communications & Site Lead Google Berlin
Robert
Pölzer BUNTE
Chief Editor
Dr. Rüdiger
Recknagel AUDI Environmental Foundation
Managing Director
Sascha
Vollmer The BossHoss
Musician
Sebastian
Tripp PANDA Fördergesellschaft für Umwelt mbH / WWF Deutschland
Managing Director
Dr. Stefan
Franzke Berlin Partner for Business and Technology
Managing Director
Stefan
Hoppe Energy Berlin
Managing Director
Stefanie
Unger The Agency Berlin GmbH
Managing Director
Steffen
Erath Hansgrohe SE
Head of Innovation and Sustainability
Till F.
Esser NH Hotel Group
General Manager & Director Northern Europe
SCREENING & CHOOSING
The TOP3 are being selected with the help of our nomination commitee.
VOTING
The GREEN AWARDS jury chooses the winners during a live meeting.
AWARDS
The winners get awarded during the awards ceremonies in Berlin, New York, London and Singapore.
GREEN AWARDS WINNER 2022
VINISHA UMASHANKAR
Category: Youngster
My innovation, the Solar Ironing Cart is built on an integral chassis and has a solar panel, power transformer, power controller, battery and iron box. The ironing cart can also be fitted with a GSM PCO, USB charging points and offer recharging service. The solar panel doubles as the roof of the cart. The power transformer, power controller and battery are inside the cart. Weatherproof copper cable is used to transfer electricity from the solar panel to the iron box. The high efficiency solar panel and maintenance-free battery are used to harness maximum solar energy and use it effectively.
Phantor
Category: Innovation
750 million people on earth do not have access to clean drinking water, and the risk of drinking water shortages is increasing sharply. In response to the high demand for safe and clean water, we are developing atmospheric water generators based on the latest scientific findings. By condensing water from ambient air, we provide drinking water and contribute to people's self-sufficiency. PHANTOR can produce up to 10,000l of pure drinking water per day. It provides water for remote locations, infrastructure and organic agriculture, without producing waste and with a minimized carbon footprint.
CIRPLUS
Category: Start-Up
cirplus is stopping plastic pollution and saving CO2 emissions by making it easy, cost-efficient and transparent to buy & sell recycled plastic and plastic waste on its global marketplace. Going live in March 2020, we onboarded 1100+ companies from 100 countries and have built an inventory of more than 1.3M tons of recycled plastics, replacing up to 80% of CO2 emissions per ton of recyclate sold.
AEROFARMS
Category: Impact
AeroFarms is the world leader in indoor vertical farming, fundamentally transforming agriculture by growing flavorful, safe, healthy food all year round in an environmentally sustainable and socially responsible way. We are an award-winning AgTech company and Certified B Corporation transforming agriculture with people and planet in mind. Using the latest breakthroughs in genetics, artificial intelligence, and plant biology, we are fixing our broken food system and improving the way fresh, nutritious, delicious produce is safely grown and distributed locally and globally.
RENZO ROSSO
Special Prize Italy
Founder of fashion brand DIESEL, making it a hit first in the USA in 1978 and then in other European countries as well as all over the world, until it became the global fashion icon known today. Since 2000, Mr. Rosso's brave and innovative spirit has been leading him towards the establishment of an international group: OTB "only the brave". He heads the Group with a sharp focus on innovation, the digital universe, and sustainability. As part of its strategy, OTB Group focuses on product sustainability, durability, circularity, and traceability across the whole supply chain planning a switch to 100% renewable energy sources by 2050. This extends to packaging, raw material use, and responsible industrial process management.
RHINECLEANUP
Category: Community Germany
Every year, huge amounts of garbage end up in the world's oceans. Millions of tons of plastic pollute nature. A large part of this rubbish ends up in the seas via the rivers – mainly in Asia, but also in Europe. The RHINE CLEAN UP initiative started in 2018 with the aim of raising awareness against the careless disposal of waste by cleaning the Rhine from source to mouth. In the meantime, this has resulted in a Europe-wide initiative that involves more than 40,000 people in six countries on 13 rivers and collects hundreds of tons of rubbish that no longer ends up in the sea.
Together with myclimate the GREENTECH FESTIVAL is working on creating a climate neutral event. Important measures for emission reductions in the event organization have already been implemented.