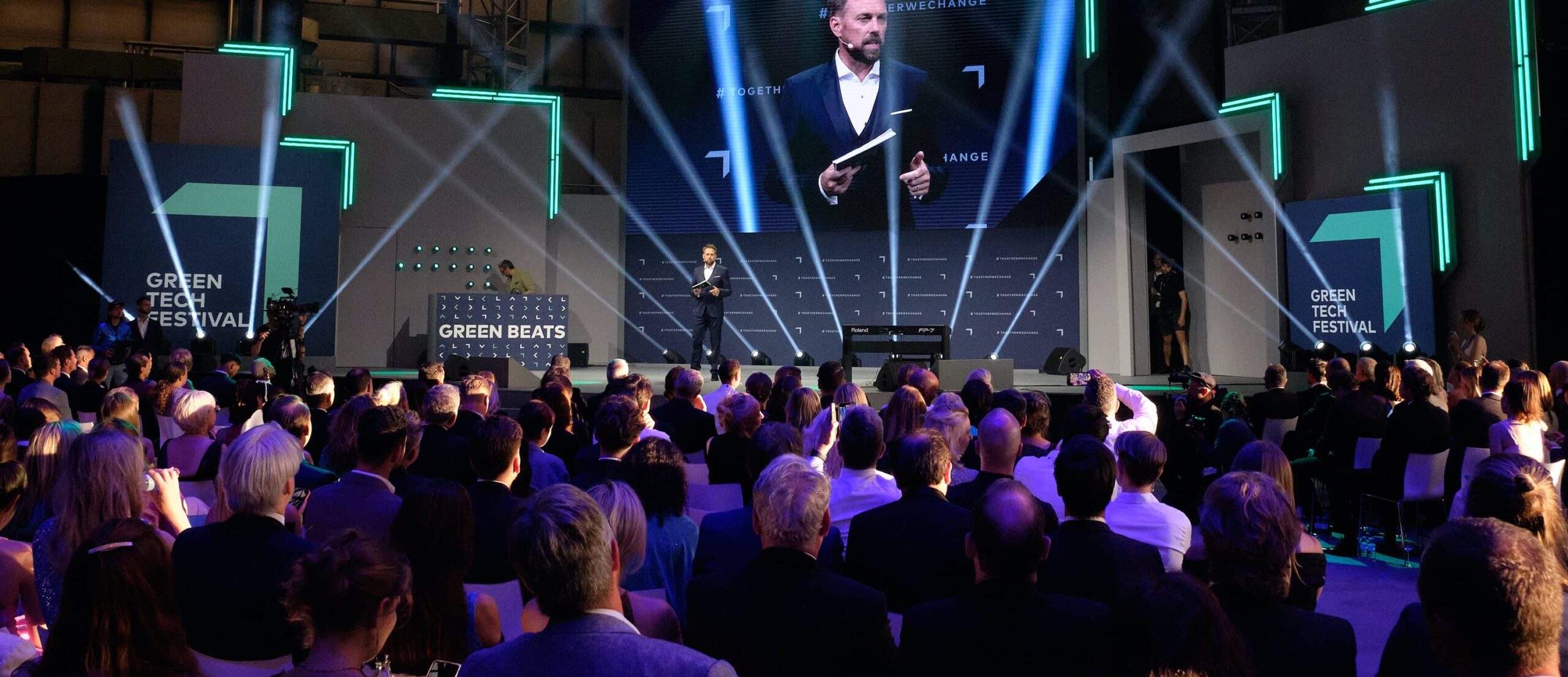 SUBMIT NOW FOR 2023!
CELEBRATING THOSE WHO MAKE A DIFFERENCE
At the heart of GREENTECH FESTIVAL, the GREEN AWARDS celebrate the most innovative projects and minds. The award honors outstanding personalities, institutions, companies, start-ups and innovations. A glamorous tribute to the best sustainable ideas worldwide.
SUBMIT NOW!
We are once again looking for the best projects for the GREEN AWARDS 2023.
If you know someone to something, please tell us by using the contact form below. We keep the form open until the end of November 2022.
GREEN AWARDS WINNER 2022
VINISHA UMASHANKAR
Category: Youngster
My innovation, the Solar Ironing Cart is built on an integral chassis and has a solar panel, power transformer, power controller, battery and iron box. The ironing cart can also be fitted with a GSM PCO, USB charging points and offer recharging service. The solar panel doubles as the roof of the cart. The power transformer, power controller and battery are inside the cart. Weatherproof copper cable is used to transfer electricity from the solar panel to the iron box. The high efficiency solar panel and maintenance-free battery are used to harness maximum solar energy and use it effectively.
PHANTOR
Category: Innovation
750 million people on earth do not have access to clean drinking water, and the risk of drinking water shortages is increasing sharply. In response to the high demand for safe and clean water, we are developing atmospheric water generators based on the latest scientific findings. By condensing water from ambient air, we provide drinking water and contribute to people's self-sufficiency. PHANTOR can produce up to 10,000l of pure drinking water per day. It provides water for remote locations, infrastructure and organic agriculture, without producing waste and with a minimized carbon footprint.
CIRPLUS
Category: Start-Up
cirplus is stopping plastic pollution and saving CO2 emissions by making it easy, cost-efficient and transparent to buy & sell recycled plastic and plastic waste on its global marketplace. Going live in March 2020, we onboarded 1100+ companies from 100 countries and have built an inventory of more than 1.3M tons of recycled plastics, replacing up to 80% of CO2 emissions per ton of recyclate sold.
AEROFARMS
Category: Impact
AeroFarms is the world leader in indoor vertical farming, fundamentally transforming agriculture by growing flavorful, safe, healthy food all year round in an environmentally sustainable and socially responsible way. We are an award-winning AgTech company and Certified B Corporation transforming agriculture with people and planet in mind. Using the latest breakthroughs in genetics, artificial intelligence, and plant biology, we are fixing our broken food system and improving the way fresh, nutritious, delicious produce is safely grown and distributed locally and globally.
RENZO ROSSO
Special Prize Italy
Founder of fashion brand DIESEL, making it a hit first in the USA in 1978 and then in other European countries as well as all over the world, until it became the global fashion icon known today. Since 2000, Mr. Rosso's brave and innovative spirit has been leading him towards the establishment of an international group: OTB "only the brave". He heads the Group with a sharp focus on innovation, the digital universe, and sustainability. As part of its strategy, OTB Group focuses on product sustainability, durability, circularity, and traceability across the whole supply chain planning a switch to 100% renewable energy sources by 2050. This extends to packaging, raw material use, and responsible industrial process management.
RHINECLEANUP
Category: Community Germany
Every year, huge amounts of garbage end up in the world's oceans. Millions of tons of plastic pollute nature. A large part of this rubbish ends up in the seas via the rivers – mainly in Asia, but also in Europe. The RHINE CLEAN UP initiative started in 2018 with the aim of raising awareness against the careless disposal of waste by cleaning the Rhine from source to mouth. In the meantime, this has resulted in a Europe-wide initiative that involves more than 40,000 people in six countries on 13 rivers and collects hundreds of tons of rubbish that no longer ends up in the sea.
JURY & VOTING PROCESS
We are once again looking for the best projects for the GREEN AWARDS 2023. If you know someone to something, please tell us by using the contact form below.
Selected jury members
Alec
Völkel Musician
The BossHoss
Alexander
Kölpin Managing Director
seed + speed Ventures
Alexander
Langer Editor-in-Chief
Business Punk
Ana
Trbovich Co-Founder and COO
Grid Singularity
Annabelle
Mandeng Moderation
Asher
Jay Entrepreneur, explorer and Explorer
Barbara
Becker Entrepreneur
Béatrice
Bracklo Director Public Policy DACH
Amazon
Bernhard
Kowatsch Head of Innovation Accelerator
United Nations World Food Programme
Burkhard
Kieker Managing Director
Visit Berlin
Charles
Vaillant CTO / CDO
MANN+HUMMEL
Christian
v . d . Brincken CEO
Ströer
Christian
Vollmann Founder and CEO
C1 Green Chemicals AG
Christian
Lungarotti Counsellor
Embassy of Italy
Claudia
Memminger Marketing Director
Nespresso Germany
Christine
Carboni Marketing & Kommunikation
Würth
Dagmar
Rosenfeld Chief Editor
DIE WELT
Dietmar
Huber Managing Partner
Joschka Fischer & Company
Dirk
Baur President Marketing Labs
Universal Music Germany
Dorothee
Ingwersen Executive Director
Plan Shop
Dr. Andreas
Jentzsch Managing Director and Senior Partner
BCG
Dr. Dirk
Stenkamp CEO
TÜV NORD
Dr. Jan-Claudio
Muñoz Venture Partner
Alter Equity
Dr. Johanna
Puetz Partner
BCG
Dr. Manon
Littek Founding Partner
Green Generation Fund
Dr. Ralf
Bremer Site Lead Google Berlin
Google
Dr. Rüdiger
Recknagel Managing Director
AUDI Environmental Foundation
Dr. Ulrike
Beckmann Scientific Advisor, Board Member
Jane Goodall Institut Germany
Dr. - Ing. Stefan
Franzke CEO
Berlin Partner for Business and Technology
Erin
Beilharz Managing Director
CleanTech Hub - Lufthansa Group
Federica
Cattoi First Secretary
Embassy of Italy
Hannes
Streeck Managing Director - Consumer Goods
Fiege Logistik
Henrik
Wenders Senior Vice President Audi Brand
AUDI AG
Kiara
Nirghin Winner 2020 in the Category Youngster
James
Morgon Global Partner
Antler
Jan Bredack
Founder
Veganz
Jens
Bruch Senior Trade Analyst
Agenzia ICE - Italian Trade & Investment Agency
Jochen A.
Berner Head of Responsible Business & Sustainability
ZF Group
Johannes
Pallasch Head of the National Control Center for Charging Infrastructure
NOW GmbH
Johannes
Strate Musician
Revolverheld
John
Farner Winner Impact 2021
Netafim
Jürgen
Kornmann Chief Marketing Officer
Deutsche Bahn
Marie Eve
Schröder Director of Sales DACH
Facebook
Marie
von den Benken Author, Influencer & Model
Markus
Weigold Partner
DREES & SOMMER
Martin
Mahlberg CEO
E.ON Energy Solutions GmbH
Melanie
Gömmel Director Digital Communications
WWF Germany
Michael
Bültmann Managing Director
HERE Deutschland
Mirjam
Staub-Bisang Managing Director
BlackRock Switzerland
Nicoline
Wöhrle Leitung Communication
Dr. Hauschka
Olivier
Wenden Vice President
Prince Albert Foundation
Philipp
Bergeron Board representative for sustainability
Deutsches Zentrum für Luft- und Raumfahrt e.V. (DLR)
Pierre
Paslier CEO
NotPla
Prof. Dr. Anke
Weidenkaff Institute Director
Fraunhofer IWKS
Prof. Dr. Christopher
Hebling Director Division Energy Technologies and Systems
Fraunhofer Institut für Solare Energiesysteme ISE
Prof. Dr. Claudia
Kemfert Head of Department
German Institute for Economic Research
Ralf
Eschemann Vice President
UPS Europe
Robert
Pölzer Chief Editor
BUNTE
Ronja
Baller Senior Business Development Manager Environment & Renewable Energy
Department for International Trade
Sascha
Vollmer Musician
The BossHoss
Sebastian
Zabel Editor in Chief
Rolling Stone
Stefan
Rummel Managing Director
Messe München
Steffen
Erath Head of Innovation and Sustainability
Hansgrohe SE
Silja Pieh
Chief Strategy Officer
AUDI AG
Thore
Schölermann Moderation
Till F.
Esser General Manager
NH Hotel Group
Tom
Junkersdorf CEO
OFF-SCRIPT
Virj
Kan Winner Startup 2021
Primitives Biodesign
SCREENING & CHOOSING
The TOP3 are being selected with the help of our nomination commitee.
VOTING
The GREEN AWARDS jury choses the winners in a special meeting, all monitored by TÜV NORD.
AWARDS
The winners get awarded during the awards ceremonies in Berlin, New York, London and Singapore.
CHECK OUT WHAT'S NEW ON
OUR SOCIAL NETWORK
🎵Turn up the music!🎵 MousseT. will be back at the GREEN AWARDS 2022!🤩 With his GREEN BEATS he will provide even more good vibes at our glamorous ceremony highlighting his passion for music and sustainability, as well as the technical progress for a greener future.👏nnBecause Mousse T. knows exactly how to make music🤗: He remixed songs for Michael Jackson, the Backstreet Boys and Simp...
read more
Together with myclimate the GREENTECH FESTIVAL is working on creating a climate neutral event. Important measures for emission reductions in the event organization have already been implemented.