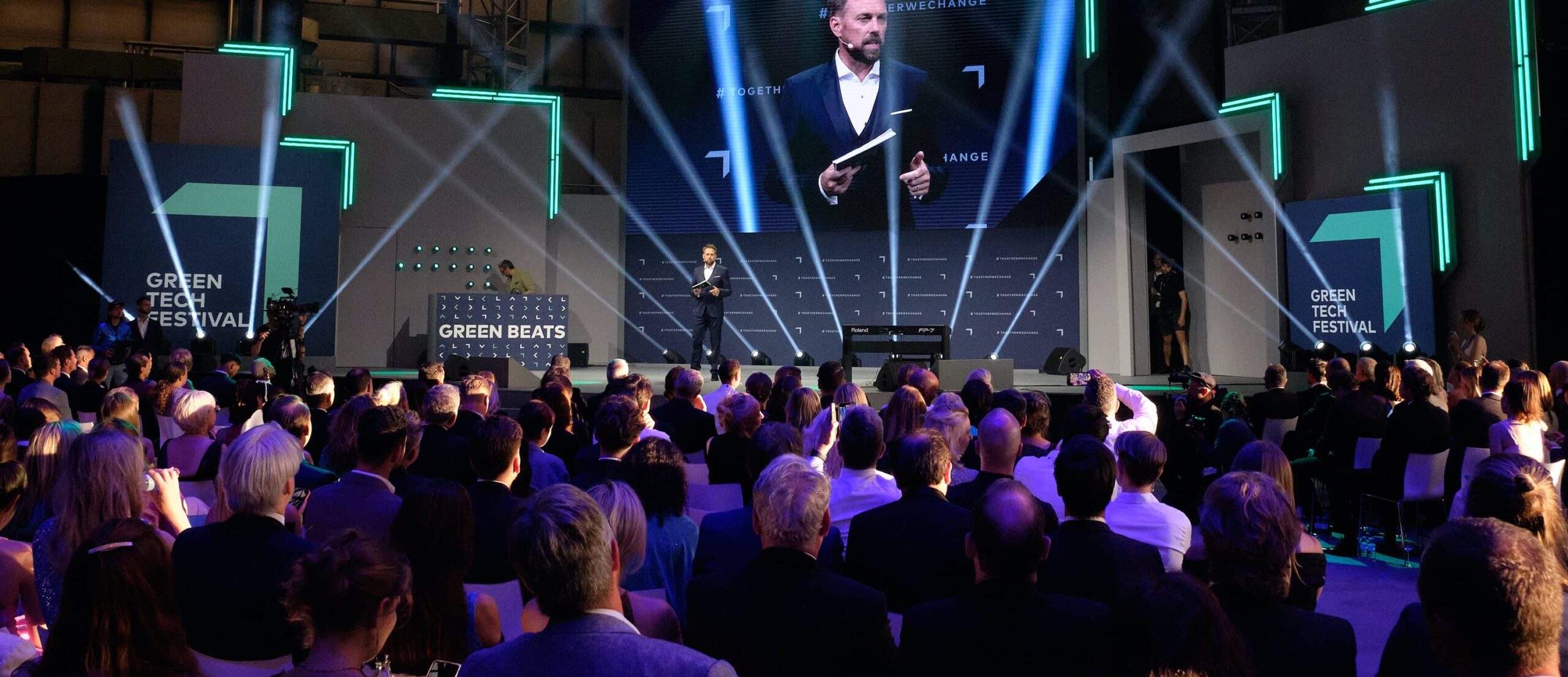 CELEBRATING CHANGEMAKERS
Founded in 2008, the GREEN AWARDS have become the most significant prize in sustainability globally. Every year, we bring together experts and celebrities to pay tribute to the most innovative projects in green technology across a range of categories. From groundbreaking start-ups, institutions and established companies to outstanding personalities and innovative young minds – we honor and give more visibility to the modern-time heroes who dedicate their lives and careers to tackling climate change and making a real difference.
Explore all of our previous international GREEN AWARDS winners and nominees.'
AWARDS PROCESS
You can already apply for the 2024 GREEN AWARDS. Make sure to fill out our contact form down below.
SCREENING & CHOOSING
The TOP3 are being selected with the help of our nomination committee.
VOTING
The GREEN AWARDS jury chooses the winners during a live meeting.
AWARDS
The winners get awarded during the awards ceremonies in Berlin.
Selected jury members
Amanda
Jobbins Vodafone Business
Marketing and Communications Director
Dr. Andreas
Jentzsch Boston Consulting Group
Managing Director and Senior Partner
Dr. Andreas
Klesse EON Energy Infrastructure Solutions
Head of Operational Excellence
Prof. Anke
Weidenkaff Fraunhofer IWKS
Institute Director
Béatrice
Bracklo Amazon
Director Public Policy DACH
Bernhard
Kowatsch United Nations World Food Programme
Head of Innovation Accelerator
Christian
von den Brincken Ströer Media SE
Managing Director
Prof. Christopher
Hebling Fraunhofer Institut für Solare Energiesysteme ISE
Director Division Energy Technologies and Systems
Claire
Oelkers Reporter, Moderation, Actor
Dr. Cyril
Stephanos acatech - Deutsche Akademie der Technikwissenschaften
Head of Energy Systems of the Future
Dorothee
Ingwersen Plan Shop GmbH/ Plan International
Managing Director
Erin
Beilharz CleanTech Hub - Lufthansa Group
Managing Director
Florian
Kohler GMUND
Owner
Dr. Ijad
Madisch ResearchGate
Co-Founder & CEO
Dr. Johanna
Klewitz Audi AG
Head of Supply Chain Sustainability
Dr. Johanna
Puetz Boston Consulting Group
Partner
Jörg
Mugke T3N
Managing Director
Laurent
Guérin Business France
Trade Advisor
Katherina
Reiche Westenergie AG
CEO
Malaika
Mihambo Athlete, Olympic Champion
Marco
Vollmar MSL Germany
Senior Advisor
Marie Eve
Schröder Meta
Group Director of Sales DACH
Marie
von den Benken Author, Influencer & Model
Markus
Weigold Drees & Sommer SE
Partner
Matthias
Wachter BDI - New Space Initiative
Managing Director
Max
Arnold FORMAT.berlin | Kreativagentur
Owner
Michael
Bültmann HERE Germany
Managing Director
Natalia
Avelon Actress & Musician
Nicole
Schumacher Deutsche Bahn AG
Head of Public Relations/ Content Marketing/ Media
Nicoline
Woehrle Wala Heilmittel
Head of Communications
Nils
Müller trendone
Founder & Managing Director
Nina
Eichinger Moderation
Philipp
Bergeron Deutsches Zentrum für Luft- und Raumfahrt e.V. (DLR)
Board Representative for sustainability
Dr. Ralf
Bremer Google
Senior Manager Communications & Site Lead Google Berlin
Robert
Pölzer BUNTE
Chief Editor
Dr. Rüdiger
Recknagel AUDI Environmental Foundation
Managing Director
Sascha
Vollmer The BossHoss
Musician
Sebastian
Tripp PANDA Fördergesellschaft für Umwelt mbH / WWF Deutschland
Managing Director
Dr. Stefan
Franzke Berlin Partner for Business and Technology
Managing Director
Stefan
Hoppe Energy Berlin
Managing Director
Steffen
Erath Hansgrohe SE
Head of Innovation and Sustainability
Till F.
Esser NH Hotel Group
General Manager & Director Northern Europe
GREEN AWARDS WINNER 2023
BRILLIANT PLANET
Category: Innovation
Brilliant Planet is utilizing the potential of algae to permanently and quantifiably sequester carbon at the gigaton scale.Their method is not only ten times more affordable but also ten times faster than legacy algae producers, which allows for affordable carbon removal through algae. The company's innovative process enables vast quantities of microalgae to grow in open-air pond-based systems in coastal desert areas without the use of freshwater. By harnessing a natural process, the innovative method contributes to the health of both the oceans and the air.
CONCULAR
Category: Start-Up
Aiming to change the construction sector, which is responsible for 60% of waste and 40% of CO2 emissions worldwide, Concular is developing a digital ecosystem for circular construction. Beginning in 2012 with Restado, a marketplace to buy and sell materials from deconstruction, Concular has grown to Europe's largest marketplace for reused materials. As this mainly reached small companies, Concular was founded in 2020 to cater to the professional actors of the construction sector. By digitizing materials in both new and existing buildings and redirecting them into new construction instead of landfilling them, Concular has created closed material loops which help to reduce global CO2 emissions by up to 15% and waste by up to 30%.
PROF. DR. JOHAN ROCKSTRÖM
Category: Special Award
Rockström is a renowned scientist in the field of global sustainability. He played a key role in developing the Planetary Boundaries framework for human development in an era of rapid global change. With over 25 years of experience in applied water research, he is a leading expert on global water resources. Rockström's research has influenced policy decisions and he provides scientific guidance to organizations such as the European Commission and the Royal Swedish Academy of Sciences. He also advises governments and business networks and holds important positions in various advisory boards and organizations focused on conservation and environmental issues. He is recognized as a member of the German Academy of Sciences Leopoldina.
JEREMIAH THORONKA
Category: Youngster
At the age of 17, Jeremiah Thoronka founded the start-up "Optim Energy" to tackle the challenges of energy poverty and environmental impact in his home country of Sierra Leone. The idea: To use piezoelectric materials and locally sourced energy harvesting technologies to provide energy to low-income households and schools. Piezoelectricity is gained from heat and vibrations. Optim Energy positioned its devices under the pavement, using one of the greatest natural assets of the areas where they were implemented: weather, traffic, and people. A sustainable and affordable system for low-income communities in a region where outside of the urban areas only a minority of the population has access to electricity.
OUR NOMINEES 2023
Explore our international GREEN AWARDS nominees, who have wowed the jury with their innovative and sustainable solutions by visiting Singapore page for Building and Food & Beverage categories. And USA page for Energy and Mobility.

Together with myclimate the GREENTECH FESTIVAL is working on creating a climate neutral event. Important measures for emission reductions in the event organization have already been implemented.